5 Products That Give Your Child a Strong Writing Foundation
This post contains affiliate links. I may get a commission if you decide to make a purchase through my links, at no extra cost to you.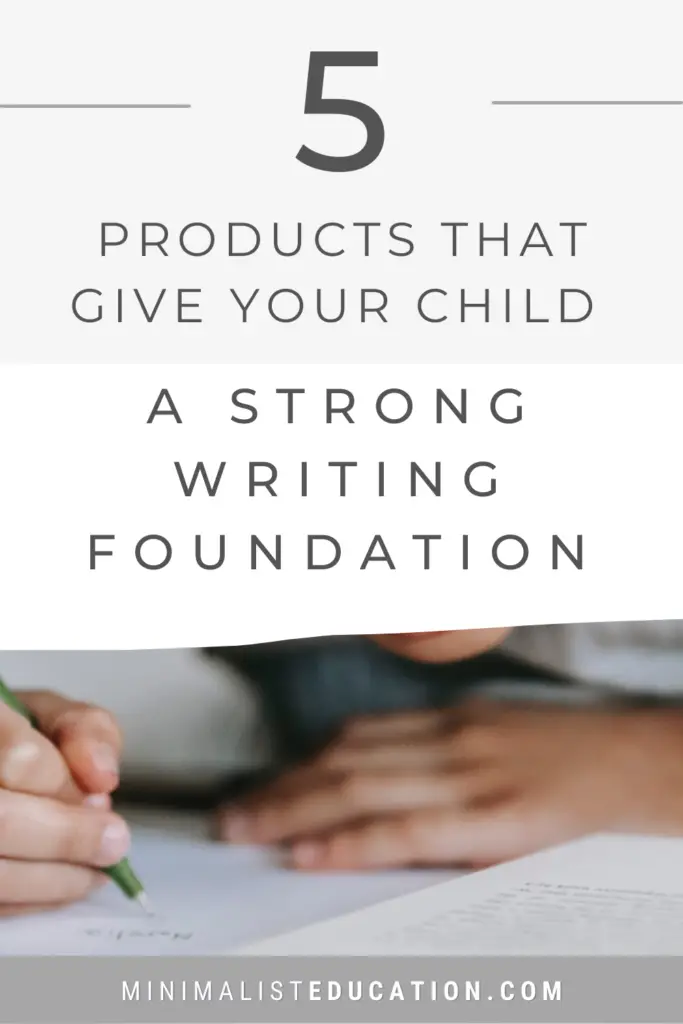 It is so easy to get overwhelmed when confronted with the numerous curriculums and ideas out there for teaching English in the homeschool. In this post I am going to give details of the only 5 products we used for our English curriculum from the ages of 5-11 in our homeschool that has provided a really strong writing foundation.
I am going to briefly explain a bit about the process I took in our homeschool to get my kids to learn to write creatively. I am also going to be sharing how I adapted the way I teach writing to my kids to a tangible step-by-step guide that can be used directly by children, under the instruction and guidance of a "supportive constructive writing partner" aka teacher/ parent.
How to teach creative writing in your homeschool
I don't explicitly teach how to write creatively whilst my kids are in the "primary" phase of their homeschooling- so up until the end of year 5 or 6 – about 11 years old. I don't stop them. They have on their own wanted to make books, write stories and letters. If they wanted help, off course I would help them, but I didn't teach them explicitly the elements of stories and formats of letters etc.
I honestly believe that kids need to have lots of freedom to write how and what they want so that they can develop their own unique style, view points, ways to express themselves, how ever they choose for a number of years with out any feedback except positive. Our primary way of doing this is through freewriting, which I will mention in more detail later on in this post.
On the other hand, I know that good writing usually doesn't just sprout in isolation. To tackle this in the primary stage of homeschooling, we prioritise reading. Reading lots of genres, fiction and non-fiction.
Any bits and pieces we like from our reading, we will copy it, analyse what makes it so good, and adapt for different scenarios. By doing this we are taking note of the little things that make a big effect in writing.
After years of doing this, we are able to recognise when writers manipulate sentence structure, punctuation, paragraph lengths, narrative viewpoints, word choice to create effective writing.
Because we have played around with great examples of writing by great writers, when I decide to focus on story writing with my kids, or transactional writing- or any kind of writing really where they are trying to write for effect, they have a bank of examples, techniques and strategies that they've learnt organically over a number of years. It makes it easier for them to consciously and purposefully try to implement these writing techniques in their own writing.
Don't get me wrong, my kids' writing is not flawless. It's still hit and miss whether all parts of their writing gels well, but because of the groundwork we put in the primary phases, of taking our English lessons from great literature, it is infinitely easier to pin point what is wrong and how to make the writing better.
And we know that writing is something where there will always be room to grow and improve no matter what level we're at.
Outside of this practice of freewriting and reading aloud a ton and stealing and modifying great pieces of writing, there are five products that I recommend using for teaching English in your homeschool until kids are at least 11 years old.
First Language Lessons
After my kids have got the hang of writing letters, I spend a couple of years teaching writing using Jessie Wise's First Language Lessons, and Susan Bauer's Writing With Ease.
In this time we usually get through both Level 1 and Level 2 of First Language Lessons. At the same time, we also do one level of Writing with Ease.
First Language Lessons is a homeschool writing curriculum designed to teach grammar and oral language skills to children in the early years. The curriculum is based on a classical education approach and the best part for me is that it includes scripted lessons, exercises, and copy work. So absolutely no prep. The lessons are also super short. And the writing required is minimal.
One of the key features of First Language Lessons is the oral language instruction embedded within it. The curriculum places a strong emphasis on developing oral language skills, including vocabulary, sentence structure, and conversation skills. This was the most beneficial aspect of using this curriculum. The dialogue it encouraged between me and my kids around English is still alive in our family today. If it also helped my kids develop strong grammar and writing skills that is a bonus.
While we kind of feel done after Level 2, I would have loved to continue and complete Level 3. I have personally gone through much of it myself (for pleasure), as I love how it demonstrates grammar through diagramming. I think it this practice of sentence diagramming is so effective- it definitely helped me visualise and analyse sentences better. I'm not sure it would have any real benefit, beyond cementing grammar concepts for kids though. I've always taught grammar from the point of view of using it to create meaning and effect in writing, not learning it just to learn it, so I didn't really continue with it, although I am happy I bought it and I do use it to refer to many times.
Writing With Ease
Alongside using First Language Lessons, I also use Writing with Ease. This is a writing curriculum designed to help students develop strong writing skills through a step-by-step approach, authored by Susan Wise Bauer.
Just like First Language Lessons, the curriculum is divided into four levels, each aimed at specific age groups. However I only use the fist level, and even that I interweave with Brave Writer practices.
Writing With Ease uses extracts from modern and classic works, and focuses on using narration, copy work, and dictation to build writing skills through exposing children to really good writing examples.
What is really cool about Writing With Ease is that it is complementary to First Language Lessons, so they target similar skills at similar weeks of writing instruction.
There is a version where you can buy the Instructors Guide and Student Workbook and it provides day-by-day instruction for every week of the year.
I actually bought the one book, that deals with all four years, but only provides example lessons once every few weeks. So for Level 1, they give full week 1 lessons, but only suggest what you could teach using your own read aloud for weeks 2, 3. And again they give a full week 4 lessons, but give guidance on the next few weeks. This was great for us, as it gave us the freedom to use books we wanted.
Writing with Ease: Strong Fundamentals – A Guide to Designing Your Own Elementary Writing Curriculum
Buy on Amazon
The reason I usually fizzle out of using Writing With Ease after Level 1, is by that in Level 2 they introduce dictation, using sentences that were longer than what my kids could do. It was so frustrating that at that point we start to do the Writing With Ease method of narration, copywork, and dictation ourselves completely using books of our choice, or use the Brave Writer Literature Guides.
Brave Writer
Truth be told, when considering teaching English, I have probably been most influenced by Brave Writer.
For those of you who don't know Brave Writer, it is a homeschool writing curriculum and philosophy developed by Julie Bogart. It emphasises the use of natural language, creative expression, and personal voice in writing.
The approach is designed to help students develop strong writing skills while also nurturing their creativity and confidence as writers. The Brave Writer program includes a variety of writing tools, such as writing prompts, games, and activities, as well as literature guides, online classes and support for both students and parents.
The program also emphasises the importance of nurturing the writer's voice and fostering a love of writing. There is a a lot you can implement of the Brave Writer lifestyle without spending a single penny as there is so much information on the website, You Tube, and homeschool families explaining how they use Brave Writer.
It is definitely one of my top 3 homeschool resources that I have used at multiple points in our homeschool journey.
Whilst I have used their Literature Guides for a number of books (but never finished any- I need to work on consistency!), it's their method of freewriting that I would recommend anyone and everyone to start implementing straight away. Even if your kids can't write. If your child is not fluent at writing or reluctant, Brave writer recommends that you just transcribe while your child says their thoughts to you. It is still their writing as it is their ideas and words.
If there is only one thing you take away from this post- let it be that. Go to the Brave Writer website and learn how to freewrite with your kids. Whilst Brave Writer recommends doing it weekly (they even have a dedicated day when they post their freewrite promts: Friday Freewrite)- even doing it once every few months will have an impact. I should know because that's about how frequently we do it.
Also, although I used the practice of freewriting in our homeschool from when my kids were little, now looking at it from the perspective of a mum with a child who is preparing for his GCSE English exams, I think freewriting is a very effective way to prepare kids as they have to do in their GCSE English exams exactly what is asked in a freewrite- writing to a prompt for a set time.
I truly believe that the Brave Writer way of doing English has directly helped instil a love of reading and story writing in my kids.
If you are a homeschooling parent, definitely check out Brave Writer.
CGP and Scofield and Sims Comprehension Books
As a change of pace, I have used comprehension books from both CGP or Scofield and Sims. It is such as easy way to get the kids exposed to lots of different genres, including poetry, and age-appropriate non-fiction texts.
If you want to learn more about how I teach comprehension skills to my kids read "5 Ways to Teach Reading Comprehension".
As I mentioned before, we take any interesting sentences or extracts we come across to analyse the language styles and devices used in the extracts and I totally encourage my kids to memorise it so they can adapt it and incorporate it in their own writing.
Schofeild and Sims comprehension texts are quite challenging, and using them with my kids really helped their comprehension skills and seeing the differences between explicit information and meaning you can infer from a text. It was also a great way to pick up new vocabulary. I use book 3 and 4 when my kids are around 10.
I also have Year 3 and Year 5 of the CGP comprehension series. The ones I'm linking to are actually the newer version and include answers, which mine didn't. From the contents page on Amazon it seems that a few of the extracts have been replaced with different texts, but most of it looks the same.
KS2 English Year 3 Reading Comprehension Targeted Question Book – Book 1 (with Answers)
Buy on Amazon
KS2 English Year 5 Reading Comprehension Targeted Question Book – Book 1 (with Answers)
Buy on Amazon
If you are looking for activities to do along side comprehension I recommend the Teaching Guide for the CGP comprehension series. You only need to get the one book and it covers all of year 3 -6 of their comprehension books. It is a really good source of writing tasks or extra-curricular activities based on each of their comprehension tasks. I'm not providing an Amazon link to it though, as I think the Teacher's Guide available is for the old set of comprehension books, but not available yet for the newer set that I have linked.
My Step-by-Step Story Writing Guide
My story writing guide has culminated from going through the writing process with my kids and it has been refined by putting it into classroom practice.
I have thought about all of the discrete components of how I taught my own kids and all of the things that we implement to try and get a really interesting story that grabs the readers attention. I tried to put all of that into a step-by-step story writing guide that can be used by children of all ages.
I have included everything that I would want my son, who is prepping for his GCSE English exams to consider when he writes a story to a prompt under time conditions. I have then expanded each part into separate activities that I can use for my younger kids, and in the classroom with my Year 3 and 4 class, allowing me and anyone using this the flexibility of ignoring any parts they don't want to focus on or that is unsuitable for their children's level.
I have tried it out in my class, and although I missed some activities as it wasn't age/ ability appropriate, it definitely resulted in improved stories.
I will be posting each step of the writing guide in separate posts as I wanted to provide explanations and background information for each step so that the reasons behind each step is known and you can choose to skip it or apply it.
It is still a work in progress. I would love to get feedback from anyone using this so I can improve it to make it more user friendly.
In the meantime, let me reveal some of what you will get in my "Seven Steps to Story Success", so you know what to look forward to!
Freewriting – this brainstorming technique is great to generate ideas for the story without worrying about grammar, spelling, or punctuation.
Outlining the story – this will help to organise the story and ensure the story has a clear beginning, middle, and end. However, this is not going to be the usual story planning board that you're used to!
Developing characters- giving characters a backstory, personality traits, and motivations will make the story more engaging and the characters consistent and believable.
Grammar, vocabulary, and punctuation focus – before diving into writing the story, take a bit of time to harness the power of grammar, sentence structure, and punctuation.
Checklists embedded throughout the guide to provide regular feedback on children's' work, allowing you to be constructive and specific.
More independent students can use these to check what they did well and areas for improvement. These checklists can be used over time to help children to grow as writers and improve their skills.
I hope this helps some of you out!